N5LUL

Bradley D. 'Brad' Miskimen
Amarillo, TX

QCWA # 35321
---
The bio that follows is in reality a QSO between Brad Miskimen, N5LUL, and fellow QCWA Chapter 141 member Jim Musgrove, K5BZH.

Bradley Dean Miskimen grew up in Kansas. He was first licensed as WNØTOQ on 01 JUN 1976. The call changed to WBØTOQ when he upgraded. A move to Texas required a call change and he became WD5JFS. Later he applied for a shorter call and received the one we all know, N5LUL.

When asked what captured his interest in amateur radio Brad couldn't recall what made the real connection. Like many others of that era, he did a lot of SWLing as a boy. He did comment, 'My earliest experience with electronics was when I was about 6 years old' I took the 'rabbit-ears' off the TV and stuck the ends of the cord into the wall' then picked up the antenna by the ears'. Only did that 1 time in my life.' Perhaps that is what started the process.

N5LUL operates many HF and VHF bands, and a lot of modes that include SSB, CW, RTTY, and Packet. He has a renewed interest in the older type of novice rigs that used vacuum tubes and can be found operating 'rockbound' on 40 meter CW 0000Z to 0400Z.

His first rig was the Heathkit HR-10B and DX-60B. He still has them, they are in beautiful condition. He bought the receiver first.. and listened to hours upon hours of code' sent by various stations and especially W1AW code practice. Two weeks after getting his license as WNØTOQ Brad got his DX-60B kit. A few days later, WNØTOQ was on the air!

Things have changed, anyone can buy a transmitter now. He had to wait for a license, most of that era waited to purchase the radio transmitter after passing the exam. His next project was the HW101, He still has that one too!

Brad moved to Amarillo in 1978, after he completed Pratt Community Junior College at Pratt, Kansas. He next attended West Texas State University for 3 years. WTSU became West Texas A&M University in 1993.

While attending junior college, Brad stayed with his aunt and uncle, living in their basement. During that time Brad's father accepted a job in Amarillo, Texas as the Building Official. Once Brad graduated from junior college, he had no home in which to return in Wichita, Kansas, so he headed to Amarillo and moved in with his parents for about a year, then a couple of roommates, and finally to his own place.

As a youngster Brad mowed yards.. something he did from the time that he could push a mower. One summer Brad and a cousin had 33 yards to attend. They were rolling in the dough for 15-16 year old kids. 'Stan did the driving to the jobs... I didn't get my driver's license until the next year when I turned 16.'

As a young man he worked in the auto parts world. In Brad's own words, 'I found a job peddling auto parts' actually they found me. I was building a sand buggy for my dad and would need several items that 'did not' fit the usual scheme of things. Asked the guys at the parts counter if I could look through their books and picked out what I needed. They were impressed that I was mechanically inclined and book savvy and wondered what I was doing job-wise' 'nothing at the time' just helping my dad' and going to school. I was offered a part time job as a delivery driver 'when can you start? Anytime.. how about this afternoon?' Eventually I moved up to assistant manager. The parts career lasted 20 years.

Brad also worked for a moving company for about 2 years. He spent ten years at BPI (Beef Products Inc.) as a warehouse coordinator and purchasing agent for a 14,000 sq/ft warehouse that provided supplies for the plant operations. N5LUL is now employed at D'Vine Wine as the resident wine-maker.

When I told Brad that he was probably the most active ham in Amarillo , he responded with 'Maybe the second most.' Brad enjoys many facets of our hobby. He loves to contest, but more as a fun thing, he is not out to be recognized as the top contest station in the section, but he can get a little competitive.

Contests he enjoys include CW Sweepstakes, Phone Sweepstakes, 10 Meter Contest. Though it is not a contest but an event, Brad is now a regular on ARRL's Straight Key Night. He can be found participating in the Texas QSO Party. He likes working the ISS (International Space Station). He is often involved in SKCC activities.

Brad serves as net control on PAIN (Panhandle Area Information Net) once a month. He coordinates 'Route 66 On The Air' in Amarillo. N5LUL has served as President of QCWA's Chapter 141 since 22 MAR 2007. Brad has recently learned the lost art of grinding crystals. He has participated in several frequency measuring tests. An active ham? I sort of think so.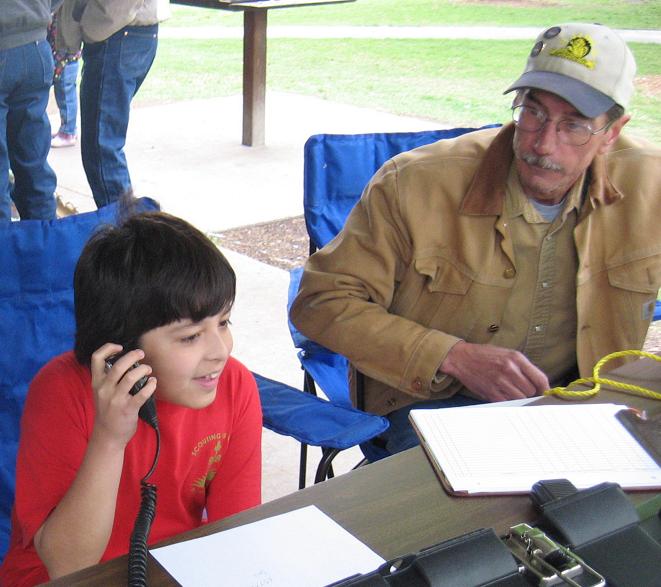 Brad, N5LUL, demonstrating amateur radio to a youngster during an amateur radio event in Amarillo, Texas.



President of QCWA Chapter 141
AMSAT #35321
10-10 #21783
SKCC #3779C

March 22, 2011