N5JH

Robert J. 'Bob' Longoria
Albuquerque, NM

QCWA # 36331
Chapter 94
---
I first got interested in Amateur Radio back when I was in Junior High School in the late 50s - early 60s when a ham lived across the street. His name was Don Smith, but I can't remember his call sign. To me, it was magic, being able to talk to people all over the world!! Another factor - my dad was a Master Chief radioman in the Navy, and could copy morse code faster than just about anyone I have known over the years. This was also about the time that I started to have an intense interest in all things electronic.

Way back in 1970, I worked with a good friend, Larry Fleming, who was a licensed ham. He resparked my interest in Amateur Radio. I would not be licensed today, were it not for him. He is still licensed, and I believe his call sign is W6DY. As an interesting aside, Larry has the same birthday I do, even to the year. Both Larry and I worked as Civil Servants repairing weather equipment in the Geophysics Division for the Navy at the Pacific Missile Range at Naval Air Station Pt. Mugu, California. Speaking of the Navy, I spent 4 years in the Air Force (1966-1970) as a ground radio equipment repairman. I worked on Collins Universal Radio Group, and repaired a fair number of KWM-2As. I also spent 3.5 years in the Naval Air Reserve (1974-1977) as an Avionics Technician in Patrol Squadron 65 (VP-65) at NAS Pt. Mugu.

I was first licensed as WN6TPL in 1970, when I passed my novice test. Excitement abounded, and I got on the air with a Heathkit HW-16. After many contacts on the novice frequencys, I decided it was time to upgrade. In 1971, I went to the FCC field office in Los Angeles, and with much trepidation, I took the 13 WPM code test, and also the General and Advanced tests. I passed all with flying colors, and held the Advanced class license (WA6TPL) for many years. I built a Heathkit HW-101 and then managed to secure a Drake line transmitter and receiver. I made many contacts on these rigs, mostly on CW, which was my passion at the time.

I moved on with my personal life, went to college, and graduated from California State University, Northridge with a BS in engineering, and then on to graduate school at Stanford University, earning an MS in Electrical Engineering.. I spent 30 years working as a practicing Electrical Engineer at Sandia National Labs in Albuquerque New Mexico. The last 15 years at the labs found me managing an Engineering department that specialized in Telemetry and Instrumentation. For a short time, I was on the faculty in the electrical engineering department at the University of New Mexico where I taught a senior electrical engineering course in networking. I retired from Sandia National Labs in 2007, and since then, have managed to resurrect my interest in Amateur Radio. During my tenure as an engineer, I purchased a Kenwood TS-440S and used that for a number of years.

After retirement, I purchased a Yaesu FT-897, and a Yaesu FTDX-3000, which I truly like! The FT-897 is primarily for 2m, and the Kenwood TS-440S is the HF backup. Being an engineer, I have switched to software defined radios, and currently use a Flex 3000 and a Flex 6700. Both of these are incredible radios. As a recent note, I just obtained an Elecraft KX3 and an Alexloop antenna. This acquisition will be geared toward doing some SOTA adventures. Also plan to take these to my summer home (Philmont Scout Ranch) to use during the summer.

I live in a neighborhood that does not allow tall towers and big antennas. However,I recently installed a Cushcraft MA5B mini beam up with a rotator (of course convincing the XYL of the reason for a new antenna!). Unfortunately, the antenna isn't up as high as I would like (remaining somewhat covert). But I do have plans on gradually pushing up the mast to gain height for the antenna. Sure hope that HR 1301 (The Amateur Radio Parity Act) passes to provide some relief for antenna restrictions.

I have enjoyed Amateur Radio over the years, and my plan is to spend a lot more free time on the air. I work seasonally during summers at Philmont Scout Ranch in New Mexico, and this coming summer, plan to take my FT-897 with me, making contacts from the ranch.

I am also heavily involved in Scouting, motorcycle riding, shooting sports, biking, and fly fishing. In 2011, I rode my bicycle across the United States, starting in San Diego and ending up in Tybee Island Georgia. The ride took me 26 days. Yes, there is still life left in this old man!

I have been married to my wonderful wife Sharon for over 40 years, and together we have 3 children and 6 grandchildren. The grandchildren also occupy some of my free time (and that is the best!).

The picture below show the shack and antenna, and represent some of the things that I like to do, besides amateur radio.

Hope to meet you sometime on the air.

73s,
Bob Longoria, N5JH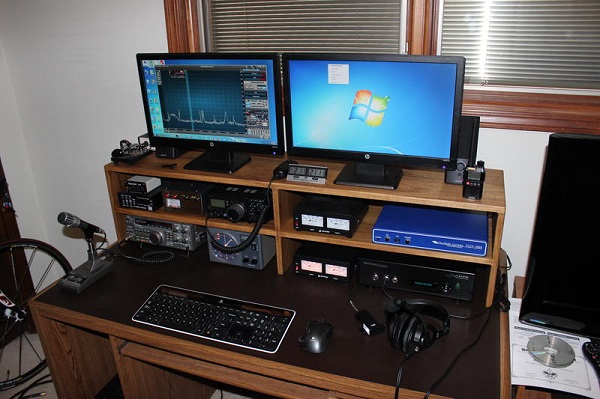 The current shack...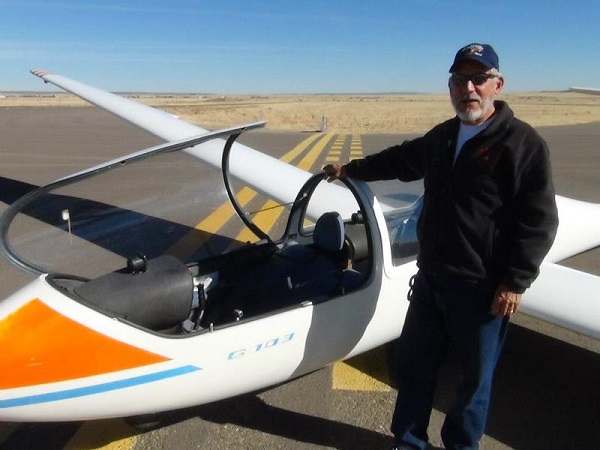 Soaring east of Albuquerque in Moriarty New Mexico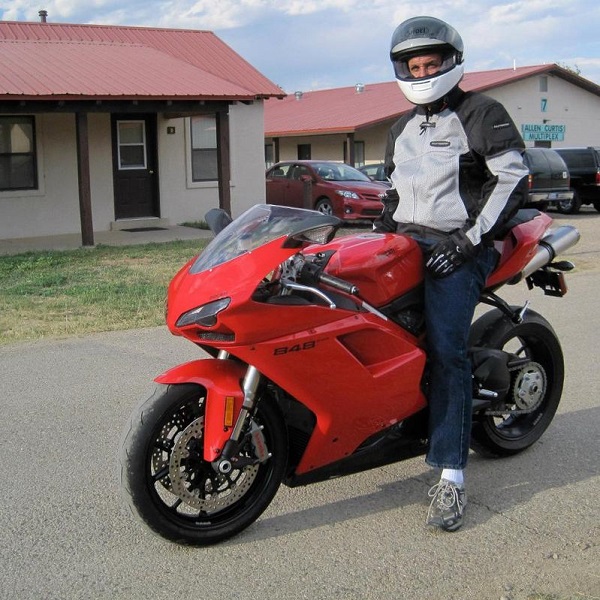 I still like speed on my Ducati 848 EVO. This picture was taken at Philmont Scout Ranch in Northern New Mexico, where I work during the summers. I have been an adult Scouter for over 30 years.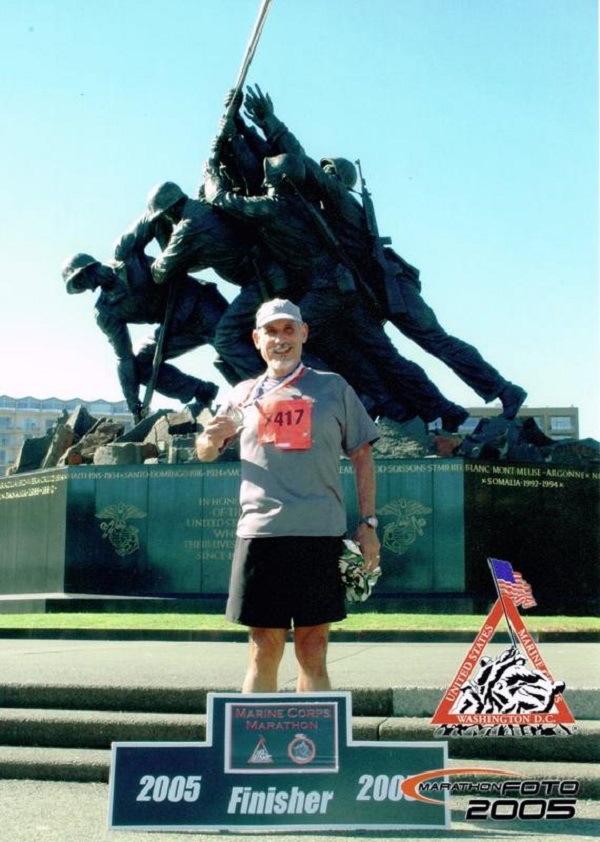 From my running days. Finishing picture from the Marine Corp Marathon in Washington DC. I ran in marathons for a number of years, including the New York City Marathon in 2003.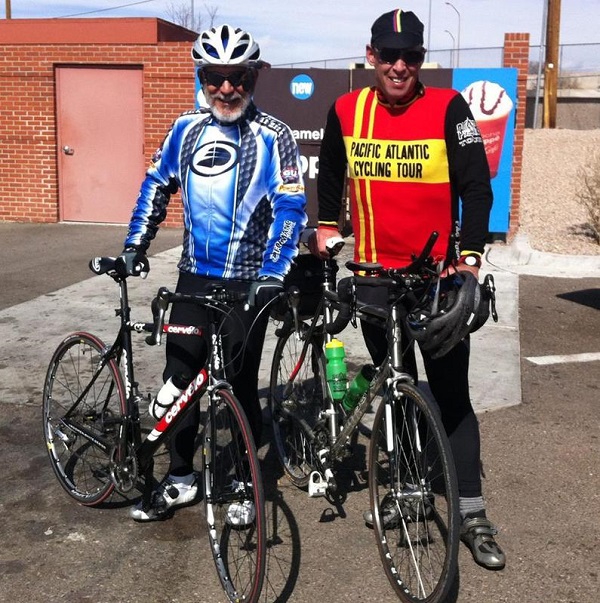 Biking days... My ride around Albuquerque with friend Lon Haldeman. Lon was the first winner of the Race Across America (RAAM), finishing his cross country bicycle trip in 9 days +. I did my bicycle ride across the country with Lon and his wife Susan Notorangelo. Lon is a true biking legend and a good friend!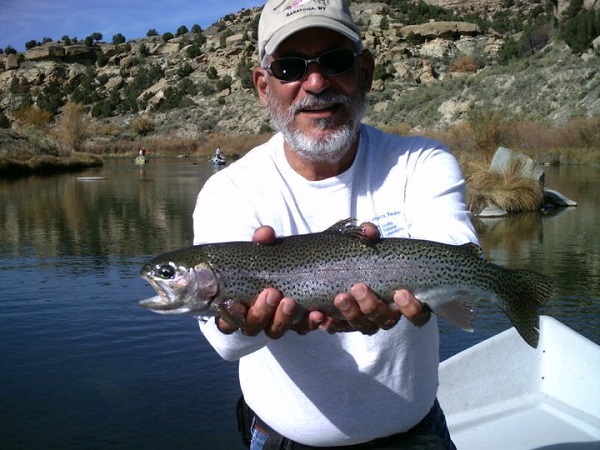 Fly fishing for rainbow and brown trout on the San Juan River in Northern New Mexico.
December 23, 2015