N4ST

James E. 'Jim' Price
Jersey, VA

QCWA # 33110
---
I received my Novice license in 1968. I, should have been licensed at least a year earlier, but could not find anyone to give me the test.

I grew up not far from the Dover Air Force Base (DE) and was fascinated by the B52's cruising overhead. I wondered if I could listen it on what they were talking about on their radios and started asking everyone I knew how to do that. A relative gave me a copy of "How to Become a Radio Amateur", and I started studying it with a dictionary close by to look up the words. When I thought I was ready for the test, I realized I didn't know another ham. I wrote the FCC and the ARRL for help. I did not get a response from either one!

Finally, my mother remembered seeing a "big antenna" at a farmhouse about 15 miles from where we lived and we drove over to the house to meet the owner who turned out to be a General Class ham. I wish I could remember his name/call, but I do remember he had a Swan rig! He was more than happy to request the Novice test and administer it.

I was soon the proud owner of WN3LFU and on the air with my DX-60 and a Lafayette shortwave receiver. This fostered a love of electronics which led to a BS and MS in Electronic Engineering. I retired a couple of years ago after +38 years of service with the DOD.

My most satisfying work was spent developing counter-IED equipment employing my knowledge of RF and electronics, much of which I had learned through the application of ham radio throughout my life. These days, you will find me on the air most days with my Omni VII and some wire dipoles strung up in the trees.

I have been bitten by the digital bug the last couple of years and do a lot of JT65a, JT9-1 and just started dabbling with meteor scatter with a 3 element 6-meter beam sitting on my back deck employing an "armstrong" rotor.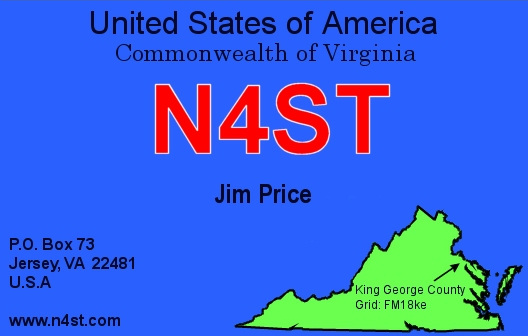 August 31, 2013