| | |
| --- | --- |
| Webmaster | 2002 - Present |
| Director | 2004 |
| Vice President | 2004 - 2006 |
| President | 2008 - 2012 |
| Database Administrator | 2012 - Present |


NØUF
Robert A 'Bob' Roske
Hutchinson, MN

QCWA # 26454
Chapter 8, 35, 120, 151 & 180


ex WNØCLR, WAØCLR, VE3/WAØCLR, VE4/WAØCLR, GMØ/WAØCLR,
ACØL, VE3/ACØL, VE6/NØUF, V31TD and NØZME (Navy Mars 1965 - 1967)
---
I live in Hutchinson MN, a town of 13,000 people about 50 west of Minneapolis with my wife, Linda. We lived in central Minnesota until 1985, then moved to New Jersey for three years. Then back to the Minneapolis area for two years and then lived in Gladstone, MO from 1991 until 2005. We have two sons, Jason, his wife Stacey and our grandsons William and Tristan live in Kansas City, MO. Brent, his Wife Dana and our granddaughter Marina live in West Des Moines, IA.

During my Freshman year in high school (December 1961) I took the Novice test and was issued WNØCLR in February, 1962. My Elmer was Bob Packer, WØVHE(SK). Bob had a call plate from the first year Minnesota issued them, 1952. My Novice license was good for one year and non-renewable. Novices were limited to 75 watts, crystal controlled and CW only. My first rig was a Hallicrafters SX-40 receiver and a home brew transmitter. It used a 5U4 rectifier, a 6J5 in a Pierce oscillator and a 6L6 final on 80 & 40 meters. I upgraded to a DX-40 in May of 62. In late 1962 I upgraded to a Technician and my call changed to WAØCLR. I used a Heathkit Lunchbox on 50 megacycles, yes, cycles not hertz, and a home brew 4 element beam at 25 feet. In 1965 I upgraded, for what I thought would be the last time to a General. A General Class held all amateur operating privileges at the time. I upgraded to an Advanced Class in June, 1975 and finally to Extra in February, 1993. In April 2000 I applied for the vanity call ACØL. In April 2002 I applied for the vanity call NØUF. After having a three letter suffix for 35+ years ACØL ended to abruptly.

My first DXpedition was in 1972 when I operated 80-10M mobile on a road trip from St Cloud, MN to Winnipeg, Canada to Kenora to International Falls and back. The rig was a Heathkit HW-101 that I assembled and operated at field day in 1971, and the antenna was a Webster Band Spanner.

In 1995 I held a license for Great Britain. I did a very limited operation as I was going to power my handheld with the cigarette lighter, but the Car for Hire didn't have one! I was on one of the Edinburgh repeaters twice as GMØ/WAØCLR in December, (the license was valid for England and Wales but I never operated from either country).

In 2000 I was in Belize as V31TD before and after the CQWW SSB Contest. I logged over 1,000 QSOs during the week operating 40-10M on SSB & CW. What a blast! We used V31GE and logged over 5,300 Q's for the contest.

The first radio club I joined was the St Cloud ARC in Minnesota where I served as President, Secretary and News Letter Editor. I was a member of the Twin Cities FM Club (Minnesota) from 1989 to 2005. After moving to Kansas City I was most active in the PHD ARA. I was elected to the Board of Directors every year I lived in MO that PHD existed, serving as President(1992, 96 & 01), Hamfest Chairman(1997, 98 & 99), webmaster since 1996 and trustee of the club call WØTE, ex WAØUGU since 1997. In January 2002 PHD ARA and the Clay County ARC merged, WØTE went along for the ride. I was still trustee of the call until I moved to Minnesota for a new job in 2005. I was the Information Officer for CCARC, an ARRL Special Service Club. I was a member of the Kansas City DX CLUB 1993 to 2005. I belong to the Mcleod County Skywarn group. I am also Trustee of AAØHQ for QCWA Chapter 8 in the Twin Cities

I am a Life Member of:
The American Radio Relay League - ARRL
The Quarter Century Wireless Association - QCWA
The International DX Association - INDEXA
The 3905 Century Club - 3905 CCN
The Old Mans International Sideband Society - OMISS
The Old Timers Club - OTC
The Old Old Timers Club - OOTC
The GERITOL Net - 3.768 MHz
10-10 International
I belong to QCWA Chapters 8(Minnesota), 35(Kansas City), 120(QCWW), 151(Calgary) and 180(Bolivar, MO). I was an Assistant Director in the Missouri Section - Midwest Division - ARRL and a Sorter in the Incoming Zero QSL Bureau. I am a VE for ARRL and W5YI and a certified Skywarn Spotter. Links to these organizations and others I belong to can be found at Bob's Web.

I operate CW and SSB from 160 through 2 Meters and on 440MHz. I have a Yeasu FT-847 at the home QTH. Other equipment includes an MFJ-986 Tuner and an Ameco PT-3 preamp. My antennas consists of a 70' trap dipole for 160-10M and assorted VHF/UHF antennas. My mobile rig is a Yeasu FT-857. I use a Hustler System for 80 - 6 meters and a dual band Comet for 144 and 440 MHz. The mobile operation is usually SSB or FM with the occasional CW qso with a set of Norcal paddles. I have 250+ Keys from around the world in my collection, including over 60 by Vibroplex.

Some of my operating awards include: IOTA-200 (334/309), IOTA-NA, WAZ, 5BWAS, WAS CW, SSB & 75M 2 letter calls, USA-CA (1155/1074), The Maple Leaf Award, The Canadian Islands Award, the Canadian 2/80, the US - Islands Award, DIPLÔME DE LA ZONE 2, World Radio's Worked 100 Nations, ARRL DXCC: Mixed(279/276), Phone (269/263) & CW(166/146) and I hold an ARRL Certificate of Code Proficiency(30WPM). I need 32 Q's for 5BDXCC(80M).
My Military Career

    Sep 1965 to Sep 1966 NRSD 9-66                    St Cloud, MN
    Sep 1966 to Apr 1968 USS Caloosahatchee AO-98     Newport, RI
    Apr 1968 to Aug 1968 USS Amphion AR-13            Norfolk, VA
    Sep 1968 to May 1977 NRSD 9-12                    St Cloud, MN
    May 1977 to Dec 1979 409th INF DIV, 1st BN        St Cloud, MN
    Jan 1980 to Aug 1985 5501st USAH Ft Snelling      St Paul, MN
    Sep 1985 to Sep 1988 NJNG, 50th Armored DIV,      Somerset, NJ
                         250th Sig BN, Company A
    Sep 1988 to Present  IRR
    Nov 2008             Retired

   I was a Radioman in the Navy and attained the rank of RM-1(E6).
   Then a Commo Cheif in the 1st Bn 409th Inf DIV.
   I started in Bio Electrical Equipment Repair with the 5501
   US Army Hospital, then switched to Supply.
   It was back to Commo Cheif in the 250th Sig BN.

      NRSD - Naval Reserve Surface Division
      AO   - Auxiliary Ship - Oiler (Tanker)
      AR   - Auxiliary Ship - Repair
      USAH - US Army Hospital
      NJNG - New Jersey National Guard
      IRR  - Individual Ready Reserve

In 1969, after two years of Vocational School Electronics classes and two years active duty in Uncle Sams Canoe Club (US Navy) I went to work for Northwestern Bell Telephone Company in St Cloud, MN. I started as a Frameman and rapidly move to residence installation and repair. In 1971 I started doing business installation and repair working on everything from switchboards to electronic business switches. I chose to go with ATT during the breakup in 1984 and shortly thereafter had the chance to get into computer programing. I was sold to IBM in July 2000. I've been doing computer programmming, system and/or application administration since 1983. I worked for the Hutchinson Telephone Company from July of 2005 until March of 2007. I did contract programming for a variety of companies until I retired on December 31, 2013.

From 1977 to 1979 I held a Vocational Teaching Certificate and taught evening Classes at The Area Vocational School in St Cloud, MN for Radio and Electronics

I programmed my first web site in 1994. My current sites can be found at Bob's Web.

I am/was a member of these Professional and/or Technical organizations:
The Society Of Wireless Pioneers
The US Navy Radioman Association
The Retired Enlisted Association
The Fleet Reserve Association
The Site Builder's Network (Microsoft)
The HTML Writers Guild
The International Webmasters Association
The Silicon Prairie Technology Association
IT of Kansas City
The International TNM Administrators Advisory Committee
We were members of Petra Evangelical Lutheran Church, Wisconsin Synod in St Cloud, MN until 1985 where I served as President and Trustee. Then we joined Our Savior's Evangelical Lutheran Church, Wisconsin Synod in East Brunswick, NJ where I served as Vice President, Chairman of the Stewardship Committee and Chairman of the Evangelism Committee. We were members of Ascension Evangelical Lutheran Church in Plymouth, MN from 1989 to 1991. In 1991 we joined Rock of Ages Evangelical Lutheran Church, Wisconsin Synod in Kansas City, MO. I served as president for 10 of the 14 years we lived in KC (1993 - 2001 & 2004 - 2005) and treasure twice(1996, 1998). I was Chairman of the Board of Elders, Chairman of the Care Committee for Called Workers. The Rock of Ages Representative to the Nebraska District and The Wisconsin Evangelical Lutheran Synod and the Mid-America Circuit Representative to the Commission for Communication on Financial Support(CCFS), Nebraska District, serving ten WELS congregations in northwestern Missouri and Kansas, a member of the Nebraska District CCFS Committee and The Rock of Ages Representitavive to the Nebraska Evangelical Lutheran High School in Waco, NE. I was Financial Officer for the Mid-America Chapter of the WELS Kingdon Workers. We are currently members of Grace Evangelical Lutheran Church in Hutchinson. MN where I was elected President of the Congregation in January of 2007 and again in 2009.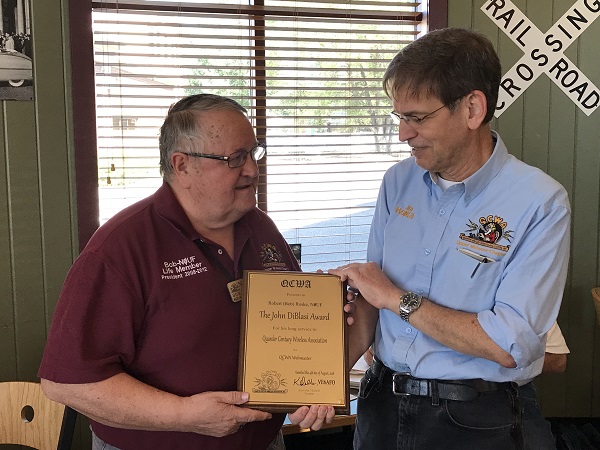 Presented September 15, 2018 by Chapter 8 President Jim, Oathout WBØKZB
(I missed the August 4th meeting)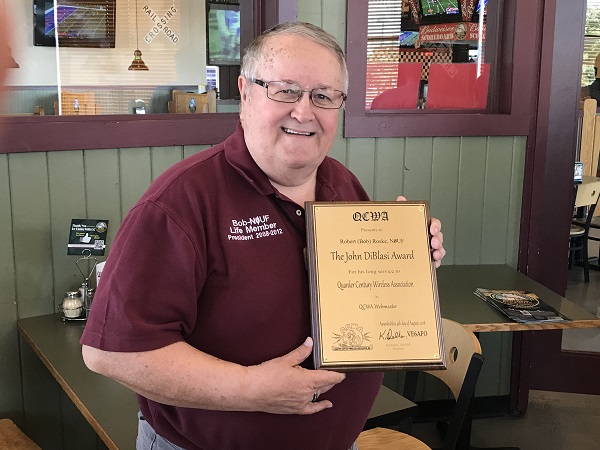 August 4, 2018