Ruthie, KC4BAB and John, KK4SHF
KK4SHF

John Sweigart
Fort Pierce, FL

QCWA # 36865
---
******* Hello, Thanks for visiting my QRZ page *******

KK4SHF, JOHN First Licensed in 1962 then again in 2013.
QTH: Winter: Fort Pierce Florida, In Summer: High atop Summer Mountain, Jim Thorpe PA
Equipment: TS-590s, KX3, Heil Pro Elite Headset, icom AD80 for D-star, Bencher Paddle, Straight Key. SKCC.
Software: FLdigi, N1MM, Windows 8.1,EchoLink, D-star, WinLink2000, SSTV.

Summer-Fall Antenna: OCF Wire 80-6 meters, at 1600 ft , 45 feet up in the trees. Runs North - South. 5 element 6m cushcraft.
Winter-Spring Antenna: Same OCF wire dipole N/S orientation. I need more antennas...

QSL is ok via direct, QRZ.com, e.QSL

Occupation: Software and Database Systems, Dot.Net, SQL
When not in the Radio Shack: Sailing the Abacos, BVI, Italy, Photography, Diving, Skiing, Hiking QRP, Grandkids
I am also BarometerBob.org the weather web site for the Abacos. Catch the audio of the Crusers net there.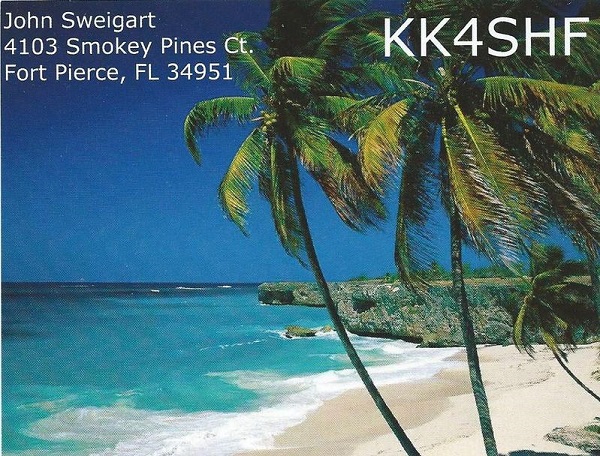 October 24, 2015