K9VDQ - February 10, 2009

---
James W. Mc Fall
Terre Haute, IN
Born 1938
QCWA # 30156
Charter Member Chapter 204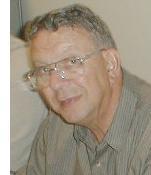 James Wendell McFall, 70, of Terre Haute died Feb. 10, 2009, at 2:52 p.m. in Union Hospital. He was born March 8, 1938, in Connersville, Ind. to Emerson W. and Opal M. Fields McFall. James graduated Connersville Senior High in 1956; then received an associate degree in electronics from Ivy Tech. He married Phyllis Schuler on May 26, 1961. James served in the U.S. Air Force from 1956-60, then became employed with GTE, retiring in 1990 after 30 years of service. He then taught electronics at Ivy Tech.
James was a member of St. Patrick Catholic Church of Terre Haute, the ARRL Radio Organization, QRP Radio Club, a member of WVARA Radio Club, and the QCWA. He was an amateur radio operator for more than 50 years under the call sign K9VDQ. James had also received his private and commercial pilot's licenses.
He is survived by his wife of 48 years, Phyllis McFall; a daughter, Polly A. White of Texas; a son, Robert W. McFall of Mississippi, and daughter-in-law, Kimm McCracken and husband Jack; grandchildren, Lucas McCracken of Richmond, Ind., Melissa, Brenda, and Rhonda of Texas; five great-grandchildren; and sisters-in-law, Flossie and Mary Ann McFall both of Connersville.
He was preceded in death by his parents; and his brothers Emerson Jr. and Donald McFall.