K6SPK - December 21, 2007

---
Hubert R. 'Mac' McClain
Los Angeles, CA
QCWA * 14884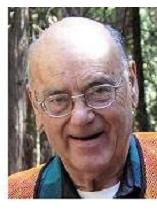 Hubert R. 'Mac' McClain passed away suddenly December 21, 2007 of an apparent heart ailment, at the age of 75. Mac is survived by his wife, Gabrielle.
He was committed in whatever he set out to accomplish. As a successful aerospace engineer, turned vice president of a large commercial real estate corporation, he was always quick to share his extensive engineering expertise with his fellow radio ham friends. One might call him 'Mr. Antenna' as he was a strong believer that a radio system was no better than the antenna connected to it. He was almost a perfectionist when it came to getting the last watt out of a radio system. Mac did not give up on packet radio when the Internet took so many away. He believed it was a valuable asset, when the phone lines were down, to handle emergency traffic. He installed and maintained the W6KA packet radio station at the Mirador Reservoir site West of the Rose Bowl. He devoted many hours handling traffic for ultramarathon races in the San Gabriel Mountains, furnishing his RV and equipment. He believed in being prepared for all emergencies, having battery backup for his equipment and his home.
Mac and Gabrielle loved to visit the snow country and were avid skiers.