K6KSG

Richard H. 'Dick' Singer
Howard, CO

QCWA # 28734
Chapter 58
---
1946 I saw my Uncle's ham station (W3NAP) in Baltimore, MD. It made such an impression that I decided one day I would like to become a Radio Ham. Uncle Parker worked for the U.S. Government and he built most all of his ham radio station. Later in 1957 I met a ham (Walt Shubin K6LQO now K6WAS) who taught me Morse Code. I then was first licensed in 1958 as KN6KSG in Bell/Maywood, California. I was a Radio Operator in the Navy aboard the USS Midway (CVA-41) Aircraft Carrier 1959 ~ 1961. I understand my name is in the book of the U.S.S. Midway. In the early 1960's the Midway caught on fire at Subic Bay, Philippines and the call was to abandon ship, except for the watch. I happen to be on watch at the time. The Navy was afraid the ship would explode for the fire was in an av-gas pump room next to the ammunition compartment. They finally got the fire extinguished before they used tugs to push the ship out to sea. Very scary time for a young radioman.

In the early 1970's I was breaking in at KOK CW shore station in Los Angeles when I first shipped. I was one of the Radio Officer's on the Hughes Glomar Explorer/WCHG, the ship that picked up the Soviet submarine in the early 1970's. After that I was Radio Officer on tramp tanker's, the S/S Mount Explorer/KTSY. Later I then went to work for Exxon aboard their tankers as Radio Electronic Officer for 18 years.

Retired from Exxon in 1994. I hold a F.C.C. First Class Radiotelegraph License with Ship Radar Endorsement, Six Month Sea Service Endorsement and ICET Advanced Electronics and Communications option Electronic Technician Certificate.

I also hold an Amateur Extra Class license with 20 WPM code test.

I stay in contact with 30 of the RM's that I was on the U.S.S. Midway with. I found on the Internet 30 of the guy's in our division and we had a 41 year reunion in Branson, MO. in 2001. First time we have seen each other in 41 years. San Diego, CA. bought the U.S.S. Midway CVA-41 and has it open to the public as a museum.

Over the years working CW for a living, I still enjoy working CW on the ham bands. I enjoy working on old equipment such as my old Central Electronics 100V, Gonset GSB-100, Johnson Vikng Ranger, Johnson Viking Valiant, Johnson Viking II, B&W 5100B, B&W L-1000-A Linear, Heathkiit SB230 Linear, Heathkit DX-60A & DX-40 & AT-1 transmitters. Tranceivers Yaesu FT-101B (2), Yaesu FT-736R, Kenwood TS520, Kenwood TS-430S, TenTec Omni 6 +, TenTec Orion, TenTec Titan III Linear, TenTec 238B Antenna Tuner. Currently I am restoring a 1950's Collins 20V-3 AM broadcast transmitter.

My receivers are a Collins 75A4, Hammarlund HQ-100, Hamarlund HQ-110, Hammarlund HQ-180, Hallicrafters SX-28A, Hallicrafters S-20-R, National HRO-60.

I still use my first transceiver, a Kenwood TS-520 I bought in 1973. When the going gets rough I kick in my 30 year old Heathkit SB-230 linear that still has the original 8873 tube.

My XYL decided that I should upgrade my 30 year old transceiver. So I did with the TEN-TEC gear. My XYL is a licensed Extra (KA7JCT). She used to work me on 15 meters CW when I was on the ships. She is a good CW operator. However do to her hearing loss, she can't work CW anymore.

When we lived in Las Vegas, NV. I had a secondary call of (WB7CPL). When the F.C.C. changed the rules of having a secondary call, I dropped the WB7CPL call and kept my original K6KSG call that I have had now for 56 years.

My antenna's are inverted Vee's for 40 and one for 80 meters, and a G5RV wire antenna. A Hustler 6-BTV Vertical with 60 radials.My towers are one Hy-gain 70 foot crank up with a 6-element 20 meter KLM mono-bander with a Prop Pitch Motor for a rotator. A 55 foot crank up with a KLM KT-34 Tribander, a 30 foot tower with two 2-meter home brew 5 element antenna's in phase.

To bad the commercial CW stations are SK now, such as KPH, KLB, KFS, KOK, KLC, WPA, WPD, WOE, WLO, WNU, WMH, WCC, and WSL. I know I have forgotten a few but these were the real CW stations in the U.S., wonderful CW operators.

I belong to the Society of Wireless Pioneers (SOWP) #662, QCWA #28734, OOTC #3692, Fists #8589, Veteran Wirless Operators Association (VWOA), SKCC #4057 and no longer a ARRL member since they pushed to drop the code requirements, which will be the demise of CW one day. CW is and has been the back bone of Amateur Radio

Email: k6ksg@howard-co.us

Keep on dit-dahing and keep CW alive.

73 and thanks for stopping by.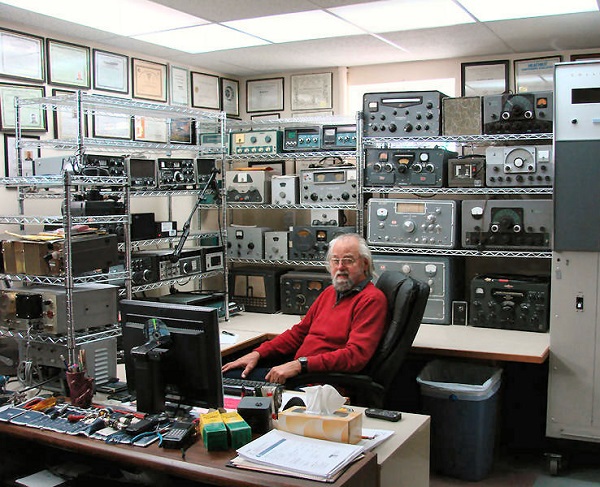 October 12, 2015