K5OVC

Leonard M. 'Lenny' Mendel
Glen Mills, PA

QCWA # 6969
---
I went to Samuel Gompers Vocational high school in the Bronx. graduated in 1946.With a 2nd Class radio Telegraph, & 2nd class radio Telephone license. & Amateur radio license W2OVC. Went into the US Coast Guard. assigned on the CGC Ponchartrain. was radio man striker. Then went to CG Radio school at Groton,Conn. as a radioman 3rd class. Then assigned to CGC Bibb.

After getting out of Coast Guard. Was a Radio operator for Radio Marine Corp.of America (RMCA) was aboard the. M. Moran sea going tug.

After getting out of Merchant Marine. I went on the New York City Police Dept. in June 1951. Was assigned to Emergency Service Division (ESD). Was assigned to Emergency Service Truck 3 for about 18 years. Retired in Sept. 1971 after 20 years.

Moved to Pearcy, Arkansas in April 1975 Got new call K5OVC in Dec 1975, I was the City of Hot Springs,Ar. Traffic light technician & electrician for 12 1/2 years. Retired again. in 1991 I chase DX on 10 through 75 SSB. I have all the entities. Top of the honor roll. total entities 363/338, on 80 meters 311,on 40 meters 327 0n 10 meters 349 ,7 band W A Z. and the most YL countries in the world. 316. member of the Hot Springs ARC And the Arkansas DX Assn. (ADXA).

Jan 20,2010 my XYL Norma KC5DDO passed away. We were married 41 years, we had lived in AR for almost 37 years.

I sold all my towers,beams and equipment, sold my house and move to Glen Mills,PA .My son lives in Media, PA. I have a daughter in down town Philadelphia,PA. I am living in a gated senior citizen complex called Marris Grove. there are some other hams here and we are trying to get a station and antenna and get back on the air.

73,
Lenny, K5OVC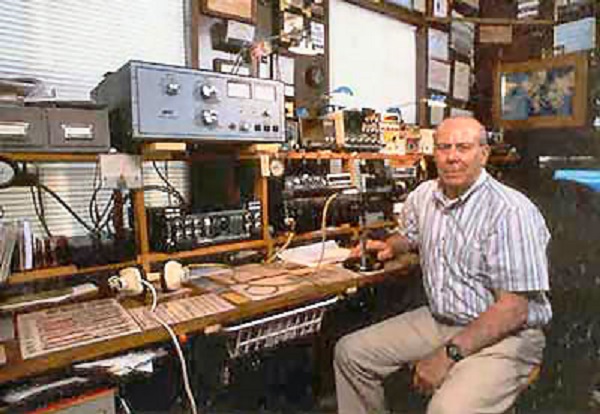 This was my station in Pearcy, AR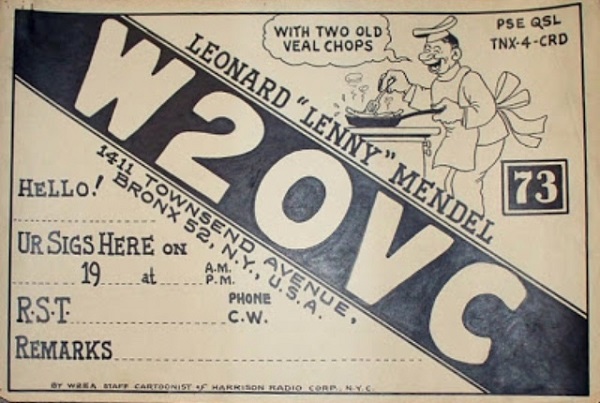 QSL designed by Otto for Lenny when he was W2OVC in the Bronx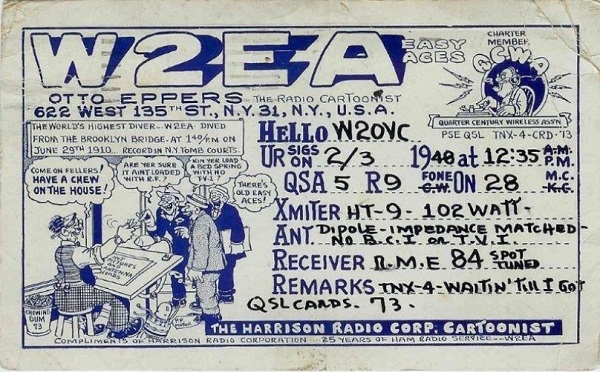 Although Lenny* didn't himself qualify for QCWA Membership until 1970, this surviving QSL Card from Otto to Lenny for a 10 Meter groundwave phone QSO from two miles away on Febuary 3, 1948 is critically historic to the Organization.

It is the earliest known example of our beloved "Old Man" logo employed after it was first conceived (and spontaneously scribbled on a table napkin!) only 8 weeks earlier at that now legendary dinner gathering at Pappas Restaurant that marked our Founding on December 5, 1947.

In fact in his remarks, Otto cited the delay for Lenny to receive this QSL was waiting for their completion by the printer, no doubt ordered immediately after the design was officially adopted.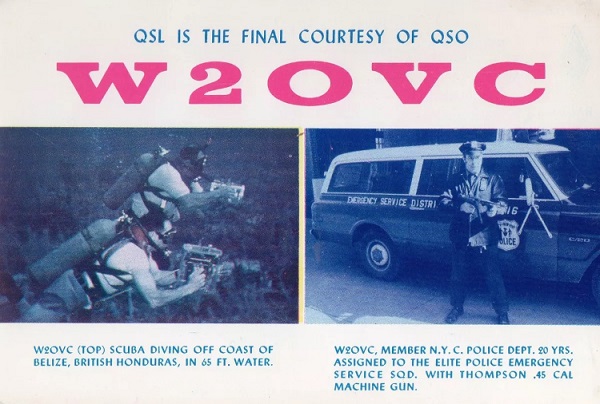 January 5, 2013