K5BZH

Jim Musgrove
Amarillo, TX

QCWA #20724
Chapter 141
---
When I was about 5 years of age, living in a Shell Pipeline Camp near Eldorado, TX where my father, Sanford W. Musgrove, was a station engineer, I got my first taste of ham radio. There were 5 kids living in that housing area. At least one of those kids got exposed, probably to someone with a mobile rig. It didn't take me long to build my first rig, a "cardboard mobile" that hung under my handlebars and join the other kids. That rig had knobs cut in triangular shapes from cardboard and held in place with bent straight pins. A pretty classy piece of work. Three of those 5 kids later became licensed amateur radio operators; all now hold Extra class tickets. They are Sanford A. Musgrove, W5FIT; Charles Prochaska, KG5KV; and Jim Musgrove, K5BZH.

My interest in amateur radio for "real" developed when I was a youngster in the fifth grade. Max Donnell, W5HSE, of Brownwood, TX, administered my "mail order" exam. The ticket with the call KN5BZH was issued by the FCC in July of 1955. I was 11 years of age. Don Fox, KN5BBM, of O'Brien, Texas, provided my first on the air contact on 80 meters at 8 am CST on 02 AUG 1955. Most likely my code was the sloppiest he had ever encountered; I was a pure case of nerves. It was his QSO #207. Don's transmitter and receiver were both homebrew. His QSL card (now framed) is now more prized than any of my DX cards.

After a year as a novice, I acquired my conditional license ("mail order" general that existed back in those days for folks living over 125 miles from an official FCC testing center, the exams were sent via US Mail in sealed envelopes to be handed to an amateur that met the FCC requirements to administer the specific exam). Many years later I upgraded to advanced, then extra. Somewhere on the way I acquired a First Class Commercial Radiotelephone ticket.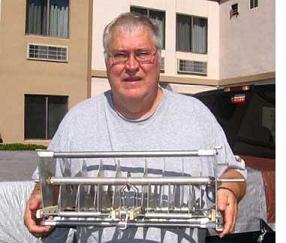 While a high school student, I was offered a job by Lewis Oliver at Oliver's Radio and TV Service. The monetary pay wasn't much, but the training I received from Lewis was significant. It wasn't long before I was making service calls, most to repair TV sets. One call I will never forget was to repair a console radio for an elderly lady. While I was servicing her radio, she called Lewis and complained that he had sent a kid. A few months later she called the shop with a broken TV and asked that they send the kid, he was the best serviceman they had.

Upon graduating from high school in May of 1962, I elected to join the Navy. After recruit training in San Diego, I was sent to ET School at Treasure Island to gain the required skills to become a Communications Technician (CTM). After graduating I was sent to NAVCOMSTA in Guam where I signed the club call KG6AAY. My next tour was at the NAVCOMSTA at Adak, Alaska where I spent many off duty hours operating KL7AIZ.

After being discharged from the regular Navy in 1966, Carol Jan Carter (courted her on the air from KL7AIZ) and I were married. We are still together, have 4 grown children, have lived in Texas, Alaska, and Tennessee. Carol's call is WD5DCZ. She isn't on the air a lot, but she does chase states (close to a WAS) plus a little DX.

Like many others, I had periods of inactivity, but somehow I always found my way back to the ham bands. Even with all of the changes, there have been many, amateur radio has this attraction that never seems to disappear.

One of my fondest amateur radio memories was hanging out with Leo Meyerson, W0GFQ, for a week in the Omaha, NE / Council Bluffs, IA area while I was gathering information to write "In Tune with Leo." During the day Leo showed me sites like where he grew up, his dad's old grocery store, Leo & Helen's first house, the WRL site, the Western Heritage Museum and a few other things.

My professional life includes Texas Nuclear, Austin, TX; Collins Radio, Dallas, TX; Texas Instruments, Austin, TX; RCA Service Company, Fairbanks, AK; Texas Instruments Austin TX; Texas Instruments, Plano, TX; Texas Instruments, Dallas, TX; Texas Instruments, Johnson City, TN; Texas Instruments, Lubbock, TX; Motorola Fort Worth, TX; Motorola Austin, TX; and Motorola Fort Worth, TX. Retired with 21 years of service from Motorola as a test engineer.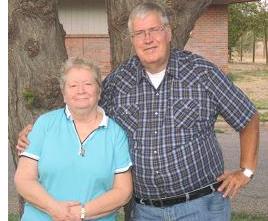 In the fall of 2003, after retiring from Motorola in Fort Worth, we moved back to my old hometown (Goldthwaite) in central Texas. My radio activity reached significant levels again in June of 2004. For the first time I started chasing awards. I completed a mixed mode WAS, WAS-90, WAC, and confirmed 73 countries towards a DXCC using a GAP Eagle DX vertical antenna from that QTH.

In July of 2005 we relocated to the Texas Panhandle. Got back on the air in August with a wire in the attic and a 20 meter dipole tacked to the eaves of the house, later I erected a 12AVQ vertical, then a 40 meter dipole. Worked All States on CW from Amarillo plus Worked All States on SSB. Like to chase U.S. counties too. My Mixed Mode DXCC was awarded September 2006. Relocated on the east side of Amarillo's Airport in the summer of 2009 where I am currently using a ground mounted 14AVQ vertical. Am 15.5 miles from our previous QTH by road. This change moved us from Randall County to Potter County.

One of my favorite events is Straight Key Night. My first time to participate was in 2006, I didn't know what I had been missing. I haven't missed SKN since. I enjoy some of the contests, I am a lite contester, in it to work new stuff and have a little fun. I still enjoy rag chewing. Hope to see you on the air.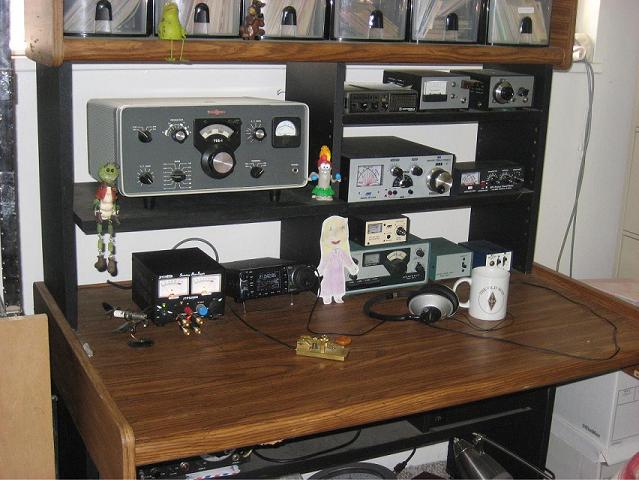 September 22, 2011