Director 1996

K4KYO

Richard A. 'Tony' Stalls
Arlington, VA

QCWA # 15925
Chapter 91
---
Richard A. 'Tony' Stalls, K4KYO, is a candidate for Director. First licensed in 1956, Tony has held amateur call signs in five US districts and Germany. He is a Life member of both the QCWA and the ARRL, and is currently President of the Vic Clark (Northern Virginia) Chapter 91.

Tony retired from a 25-year federal government career as a Special Agent with the US Secret Service in 1993, and immediately became active with several volunteer community service programs and the QCWA. He was elected QCWA Chapter Vice President in 1994.

Tony states, "I am deeply concerned about amateur radio moving toward becoming little more than a personal radio service and in the process losing much of its prestigious status as a National Technical Resource and public service entity. The QCWA is uniquely qualified to spearhead an effort to reverse that trend. If elected, I will urge the officers and other directors to work with the FCC, ARRL, and others to preserve and protect the traditions of amateur radio that we hold important so future generations may enjoy the benefits it has provided us over the years."

From qrz.com
My Novice license, KN4KYO, was issued on September 17, 1956, and upgraded to General eleven months later. After high school I attended Tennessee Tech and received a commission in the U.S. Army through the ROTC program upon graduation in 1963. After specialized training after reporting for Active Duty, my first duty assignment was at Tooele Army Depot, Utah, where I acquired a secondary station license, WA7MNW. Then in 1966, I was reassigned to an Army air defense battallion that was headquartered in Aschaffenburg, Germany, where I was licensed as DL5OL.

I also held secondary station licenses, WB2KIY, WA3ZQW, and WB5VLF when my career pursuits required me to relocate around the country, but I've always retained my original call

I am a Life Member of the ARRL and I was formerly a Life Member of the QCWA where I served as President of Vic Clark Chapter #91 and as a Director on the QCWA's Board of Directors.

My current interests are primarily focused on the restoration and operation of military radios and ham rigs (E.F.Johnson, Hammarlund, Collins, Swan, Drake, etc.) from mostly the 1940's and 50's.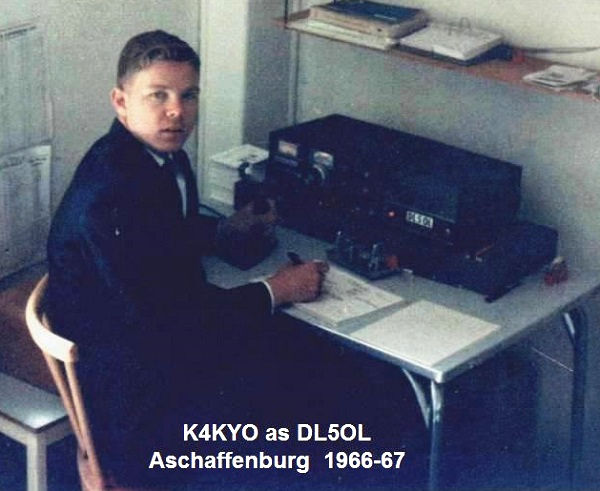 April 06, 2017