K2YGF - April 14, 2005

---
William F. 'Bill' Schall
Baldwinville, NY
Born: January 21, 1929


I have just been notified that Bill Schaal-K2YGF died of a heart attack yesterday. Apparently it was sudden and massive and he did not suffer long. The obituary is scheduled to appear in the Sunday paper and the funeral and calling hours will be on Monday.

Bill retired from General Electric as an electrician several years ago. Brian Johnson-K2BJ remembers the Field Day a number of years ago when we relied upon Bill to wire up the generator and Brian couldn't figure out why his Yaesu was running so hot - Bill had wired the generator so that it was feeding 220 VAC to Brian's transceiver. Bill never lived that one down.

Bill was a VHF enthusiast and his QSL cards showing two yellow gold fish in a fishbowl (2YGF, get it?) were prized possessions. Bill was a frequent attendee at the QCWA luncheons and he will be sorely missed.

Steve-N2TKX

---
William F. Schaal

April 14, 2005 William F. Schaal, 76, of Baldwinsville, passed away on Thursday. Born in Oriskany, NY, he was a graduate of Oriskany Central High School. He was a Navy veteran of WWII, a member of Liverpool American Legion Post 188 and Baldwins-ville Moose Lodge 1644. He was a dedicated employee of General Electric for 40 years and a member of various amateur radio clubs, with call sign K2YGF. He is survived by two sons, Keith W. Schaal of Otisco and Scott E. Schaal of Fayetteville; three daughters, Hopanne K. Stefanski of Jacksonville, FL; Donna J. Leonard of Kannapolis, NC; and Denise J. Emm of Oneida, NY; 11 grandchildren; and two great-grandchildren. Calling hours will be from 4 to 7 p.m. Monday, April 18, 2005, at Maurer Funeral Home Moyers Corners, 3541 Route 31, Baldwinsville, NY, with a funeral service to follow at 7 p.m. at the funeral home. Burial will be private. In lieu of flowers, contributions may be made to the Humane Society, PO Box 38, Liverpool, NY 13088 or the Liverpool Animal Health Center, 8205 Oswego Road, Liverpool, NY 13090. Maurer Funeral Home, Inc. www.maurerfuneralhome.com

Published in the Syracuse Post Standard on 4/17/2005.

---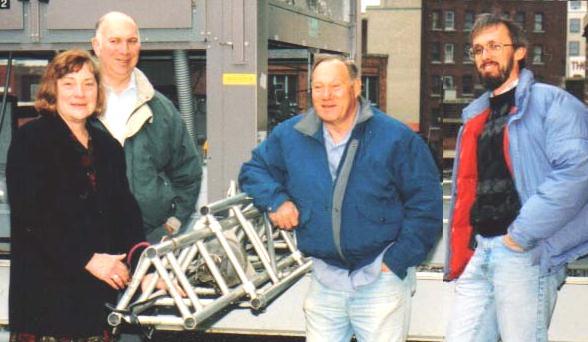 The attached color photo dates to 1996 when we were installing an amateur radio station at the Museum of Science & Technology in Syracuse, NY. Left to right are Rachel Nettleton - Director of Education, Steve Karon - Museum Director, K2YGF, N2STK.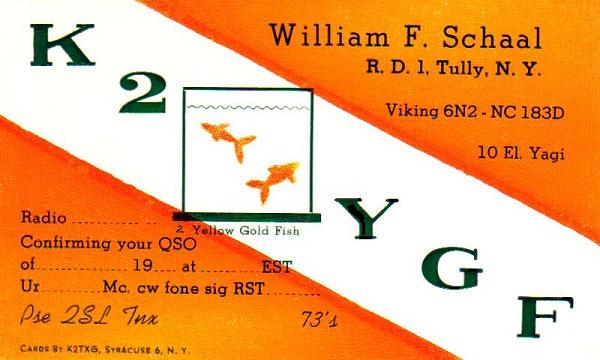 Kilo Two Yellow Gold Fish