K2YEW - December 20, 2007

---
Norman Wesler
Born 1935
Ocenside, New York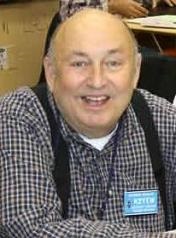 Norman Wesler was working as an engineer at Litton Industries in Melville a half century ago when a lunchtime discovery changed his life.
"He was walking by a room and heard Morse code and looked inside and there was a ham radio club that met during lunch," his wife of 19 years, Etta, recalled. "He went in and was fascinated, and he started studying for his license," which he received in 1957, she said. "He liked the challenge of 'fishing' for contacts" around the world.
Wesler, 72, of Oceanside, who went on to serve for two years as president of the Long Island Mobile Amateur Radio Club, died Thursday. Family members said he'd felt ill and pulled over to the side of the road as he was driving home from his job in Amityville.
Wesler, who was also an accomplished jazz keyboard player, was born in Brooklyn and then lived in upper Manhattan, Queens, Dix Hills, and Oceanside since 1986.
He graduated from Stuyvesant High School in Manhattan before earning bachelor's degrees from New York University in mechanical and electrical engineering. He received master's degrees in those subjects from NYU and then a third master's, in business administration, from Hofstra University.
He worked for Litton from 1956 until 1972, the year he cofounded Lizan & Wesler in Amityville. Four years later he created Wesler Cohen Associates Consulting Engineers, also in Amityville. He worked on many public works projects such as the fountains in Columbus Circle, City Hall Park, and lighting for the Throgs Neck and Triborough bridges.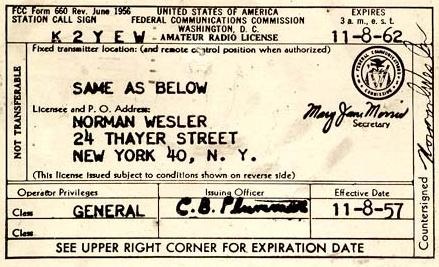 "He was very, very into jazz and played at jazz clubs around Long Island," Etta said. "As a child he took classical piano and he developed a love for jazz people like Miles Davis and John Coltrane. He had a group, the Norm Wesler Trio. They used to play on Friday nights at Joe Michaels in Babylon in the late '80s and early '90s."

In recent years, amateur radio consumed much of his spare time. Wesler, whose call sign was K2YEW, taught amateur radio courses at Yeshiva University in Manhattan, Chestnut Hill School in Dix Hills, in the adult education program at Huntington High School and at the Long Island Mobile Amateur Radio Club's weekend technician courses.

"He spent over 20 years teaching prospective hams electrical theory and Morse code," said George Tranos of Amityville, who shared classrooms with Wesler for 15 years. "He taught hundreds of newcomers and he was a mentor to these people," helping them set up stations at their homes, he said.

In 1998, Wesler was voted "Grand Ole Ham" by the Hudson Division of the American Radio Relay League, the national association for amateur radio. He was assistant director of the division, encompassing parts of New York and New Jersey, and was a past vice president of the Larkfield Amateur Radio Club.

He was a Democratic Party committeeman in Suffolk County in the 1970s and 1980s.

He and his first wife of 28 years, Dorothy, now of Deer Park, were divorced in the 1980s.

Besides Etta, he is survived by two daughters, Beth Dunn of Brooklyn and Robyn Landow of Manhattan; a stepdaughter, Lisa Robbins of New Hyde Park; a stepson, Andy Graziano of Fairlawn, N.J.; and seven grandchildren.

He was buried Sunday at New Montefiore Cemetery in Pinelawn.

From qrz.com

BEEN HAM SINCE SEPTEMBER 1957. OPERATION NEARLY 100% CW, EXCEPT FOR CLOWNING AROUND A LITTLE ON 2M/70CM FM REPEATERS. HEAVILY INTO QRP CW LOW POWER OPERATION - CAN BE FOUND ON 7.040 MHz,10.106 MHz, and 14.060 MHz QRP FREQUENCIES,AND 7.058 MHZ [FISTS]and 14.058 MHz[FISTS] FREQUENCIES. ENJOY LOW POWER OUTDOOR OPERATING FROM THE BEACH,PARKS,AND CAMPSITES