K2TQN

John H. Dilks
Egg Harbor Township, NJ

QCWA # 37010
Chapter 5
---
John Dilks, K2TQN, was first licensed in 1956 as KN2TQN. Now an Extra class, he enjoys researching ham radio history and typically writes about ordinary hams that have done extraordinary things. He has an extensive library of early books and magazines, used for reference, from the earliest days of radio. He is also caretaker to a large collection of photographs and personal letters written by radio pioneers and early hams. Many of his stories come from these letters.

He was the lucky person selected by the ARRL to write about ham history for QST magazine starting in January 2000, and recently retired from there in early 2014, writing over 160 columns.

K2TQN has also made presentations to many ham clubs and at hamfests about some of his more interesting columns.

One very popular one is, the "Wireless North Pole". It is about the Don Mix 1923 expedition aboard the Schooner Bowdoin to the North Pole.

Another is "History: Old Transmissions and Voices from the Past."

It is a PowerPoint which includes Photos, Graphics, and the actual Voices of the following Wireless Pioneers telling their personal accounts and stories: Marconi, Jack Binns, Irving Vermila (Ham #1), Dr. Lee DeForest, Hugo Gernsback, Edwin Armstrong, John Reinartz (life story), Leon Deloy (French 8AB - first transatlantic QSO), Elmo Pickerill (first airplane-to-ground QSO, 1910), Art Collins, General Griswold (USAF- SAC), Clarence Tuska describing the start of QST magazine in 1915, an SOS from the passenger ship "PRINSENDAM" in 1980 and early Wireless Ship transmissions on 500kc CW. (This one will be presentated at Dayton: 2016, May 20, Friday, Room 5, 2:30-3:30)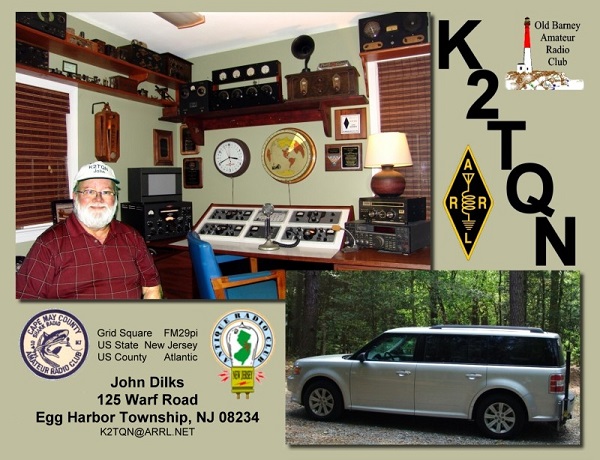 My home station: a Collins desk with a 75A4 receiver, 75S3C receiver and 32S-3 transmitter,
with a 312B4 station control, and a KWM-2A and 30L1 Linear. Some of my collection is shown
above the desk. On the right is an Icom 765 (replaced by a Yaesu FTdx3000D) & TenTec tuner.
March 9, 2016