K1HO

Ernest G. Smith
Sorrento, FL

QCWA # 14676
Chapter 45
---
Happy you stopped by and thank you!

I was born in Charlevoix, Michigan, where family roots go back to at least 1855 or so. Family roots go back to some of the earliest settlers in the New England area. I have strong ties to southern California as well - where all three of my daughters were born. Ties to Cape Cod, MA., and over 42 years in Florida now..

The picture above was taken in 1957 in Lemon Grove, California, by W4YU (ex K6DVD). I started in this hobby in 1954 as a young fellow in Junior High School (Dana JHS on Point Loma) in San Diego, California, thanks to my Electric/Radio Shop teacher Don Stansifer a WWII vet, with some interesting stories from his time on a military oil tanker while in the U.S. Navy back then, (Then W6LRU, later N6RU - now a Silent Key). It was a very exciting hobby then and still is to me. Later moved to Lemon Grove, California, and attended Helix High School where I made some very good friends who were and are still active Ham Radio Operators - W4YU (ex K6DVD), Loren; K6JHD, Dave; K6GHM, Roger; and I still keep in touch with them.

Through the years have enjoyed working and meeting many more Hams. My original call was K6GHO and later, when I relocated to Cape Cod (1977), I was issued my present call - K1HO (Not a vanity call). After several years of working at Oceanographic Institutions (Scripps in La Jolla, California, and then Woods Hole on Cape Cod) and a seven year stint with Coastal Tankships Corporation of Houston, Texas, and five years with TIF Instruments of Miami, I settled down working at Amateur Electronic Supply in Orlando, Florida, where I retired from in January 2012. I worked with a great group of Hams there for fifteen years and my wife Jean and I really enjoy living in Central Florida near Mount Dora (NW of Orlando approx 25 miles).

I had the privilege of working as shipboard Radio Electronics Officer on Oceanographic Research Vessels and on Ocean going tankships over the years and of being part of the crew that found the final resting place of the TITANIC on September 1, 1985, under the direction of Dr. Robert Ballard of Woods Hole Oceanographic on board the Research Vessel KNORR (KCEJ) http://en.wikipedia.org/wiki/RV_Knorr. Still hold Radiotelegraph license T2GB067814 with ship radar endorsement and six month service endorsement and Commercial General Radiotelephone license with ship radar endorsement (formerly First Class Radiotelephone). Was certified SCUBA diver through the University of California (San Diego) for several years and worked on electronics for the SeaLab II project back in the mid to late 60's as well as some trips aboard the submarine the USS Dolphin (AGSS 555). Our research group at Scripps (Marine Physical Lab on Point Loma) worked next door to the Bathyscaphe 'Trieste' group and often saw Jacques Piccard and Lt Don Welch (the two fellows that made the deepest manned dive on the 'Trieste'). We would often make our required monthly SCUBA dives (to keep our certification up-to-date) at the dock under the 'Trieste' where the water was deeper (when she was in Port in San Diego, California), which was always interesting.

I have worked maritime mobile from FLIP (Floating Lab Instrument Platform - 'the first Ham to do so'. Also check out 'Ed' W6IPT, he was First Mate/Chief Engineer on FLIP for several years - good long time friend), operated by Scripps Institute of Oceanography, as well from several research vessels while traveling around the planet in places such as the Beagle Channel, Straits of Magellan, Panama Canal, the Arctic and Antarctic regions (Once visited Elephant Island (Cove) - the location that Sir Ernest Shackleton and his men ended up in after the mishap with the vessel Endurance in 1874 - what a spot to be in!), plus all of the oceans, the Med and Black Sea areas and really was great having some regular Ham friends around to keep me company over the air. Sit foot on St. Peter's and St. Paul's Rocks right on the equator in the Atlantic Ocean on September 15, 1983, while serving as REO on board the Research Vessel Knorr (a few DX expeditions have worked off these rocks over the years - very small, and nothing there except birds and fish most of the time).. Also was a surface navigator for the submersible ALVIN at Woods Hole Oceanographic for while in the late 1970's and worked maritime mobile from the Alvin tender 'Lulu'. I have had the pleasure of being on several Sea Expeditions - the very first being "The Vermilion Sea Expedition" in 1959, under the direction of Dr. Fred Spiess, while working for Scripps Institute of Oceanography.

I enjoy meeting new people via this fantastic hobby. I operate CW mostly and now and then SSB. I am a VE and enjoy seeing new ones come into the hobby. Member of QCWA (# 14676) Century Club, SOWP, ARRL (Life), EARLY BIRDS, SKCC # 3795, RAG CHEWERS CLUB, CFO # 555, FISTS # 10341, & A-1 Operator Club. Awarded 'The Adventurers Club Expedition Pennant' by Ralph White, ex K6MUL, and the B.O.D. for contribution to the Titanic Expedition in 1985.

This is a great hobby and I would encourage anyone with and urge for adventure to get started asap! If you hear me on the air please give me a call, I would enjoy meeting you!

73, Ernie Smith - K1HO

Note: The Research Vessel Knorr ( KCEJ) was retired December 2014 and will be returned to the U.S. Navy. Built in Bay City, Michigan, and served for 44 years as one of the most famous Research Vessels of its time. Knorr's discovery of the TITANIC publicized the name of Woods Hole Oceanographic Institution worldwide. When the Knorr returned to Woods Hole in September 1985, WHOI's dock was filled with people who turned out to greet the crew and science team and to learn more about the Titanic expedition. The small village of Woods Hole was filled to the brim with people and TV crews from around the globe. I had the pleasure of setting up the connection to quite a number of TV and radio stations on our way in, via High Seas radio, who were eager to talk with the scientists who were involved in the Titanic discovery. Special recognition and thanks is in order to the officers and crew of the RV Knorr for a job well done for getting the science parties out there and home safely...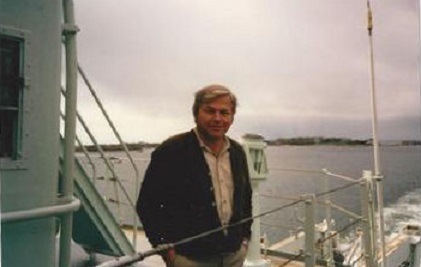 March 4, 2015