KØPV

Donald P. Zielinski
Aurora, CO

QCWA # 16898
Chapter 58
---
Licensed since June of 1957. Previous calls include: KNØPVI, KØPVI, WPEØBV,CXØZC, WB5INT, & ZF2MB. Custodian for W5CP & K5FJ. GROL and FCC 2nd Class Radiotelegraph. MSEE Communications Technology & PhD Radio and Television Broadcasting. Was self employed as Chief Engineer at Z-Comm Technology & Engineering Services taking care of over 35 AM/FM/TV stations in a six state area. (Now retired as of Feb, 2006). Board Member and Founder of The Bighorn Museum of Amateur Radio (1990). Co-Founder and 1st President of The Mile High DX Association (1974). Current President of The Eastco DX Society. I have recently moved from my Texas QTH to Colorado after retiring from Texas Tech University.

Equipment in use......
SSB: Icom 756 Pro III ( Heil PR-80 mic / Vibroplex paddle)
AM / CW: Collins 74A4 & 32V2 (D-104 NightEagle or Shure 534)
Hammarlund HX-50 & HQ-170A VHF (ElectroVoice 644)
Globe Scout 680A & National NC-57 (Calrad 500C or J-38)
Viking Adventurer & Hallicrafter S-38E (J-38)
Hallicrafter HT-40 & SX-110 (J-38)

VHF / UHF: Kenwood TS-790A w/ HB KW (SSB & CW) (Heil PR-20 or VibroPaddle)
Kenwood TM-241A (FM)
Heathkit HW-30 (AM)

ANTENNAS: M2 4element beam and Antron 99 (10mtrs)
Half wave Dipole (20mtrs)
Inverted V (40 & 15mtrs)
Tram 1480 (2mtr & 70cm FM & EchoLink node)
M2 5 element beam (6mtrs)
Cushcraft 10 element beam (2mtr SSB/CW)
Hy Gain 13 element beam (2mtr FM)
DB Products 7 element beam (70cm SSB/CW)

I also host the EDXS W5CP-R & W5CP-L EchoLink nodes which are linked to 145.655 MHz. & 446.655 MHz.

Favorite operating mode & band:.......10 meter CW.

Other activity: My 1982 427 Corvette.

Association Memberships: AM International, Ten Ten International, QCWA, SOWP, Fists, SKCC.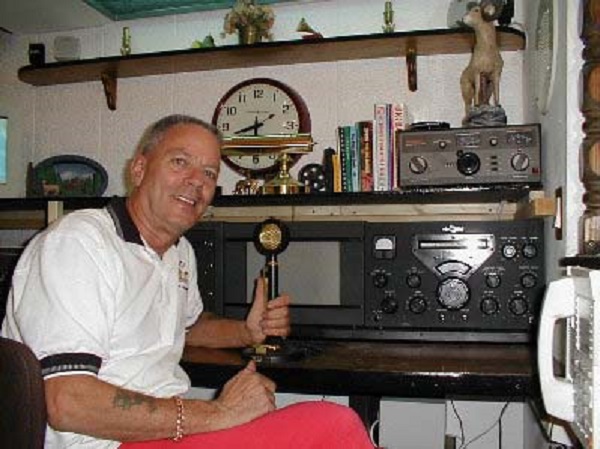 June 10, 2015