KØHYD

Dale L. Puckett
Goddard, KS

QCWA # 35839
Chapter 79
---
You are invited to check out my personal website at www.k0hyd.info. Also, I invite you to check out my Ham Nation Videos website at www.HamNatonVideos.info and thank Dan, N9LVS, who is maintaining the site.

I presently host viewer videos and photos in the Show Me Your Shack segment of Ham Nation every other week on TWIT.TV/hn.

Hope to work you on the air soon. I QSL via LOTW, eQSL and direct. Here is my bio info:

Director of Operations, Midwest Division, Brainworks Software, Wichita, KS. Alternate mailto:dale.puckett@att.net. Business Home Page: http://www.brainworks.com Bachelor of Science in Journalism, University of Kansas. Master of Arts in Management, Webster College. Post Graduate work in Photojournalism at Syracuse University. Wife: Esther. Daughter, Michele. Retired Coast Guard Lieutenant (1990). Former Contributing Editor to Rainbow Magazine (OS-9 Column). Former President of OS-9 Users Group. Former President of Kansas Packet Group (KSPG).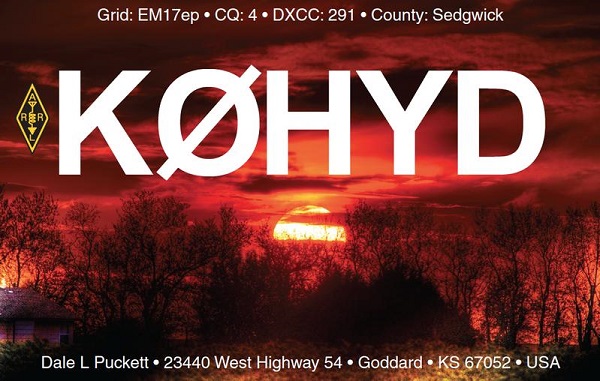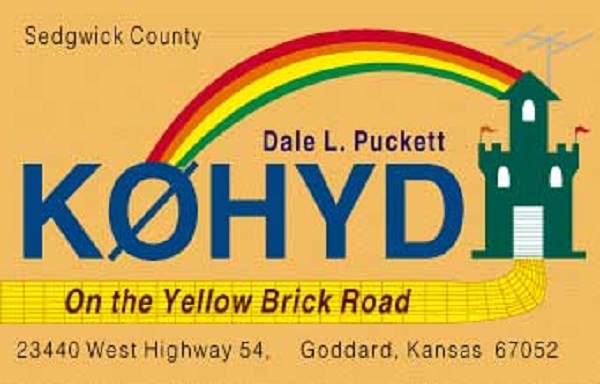 This was my QSL card when I first moved back to the farm I grew up on after retiring from a 22+ years career in the US Coast Guard.
December 18, 2015