Chapter 20 - Pictures
---
Treasurer Bruce Carpenter, W3YVV; President John B. Johnston, W3BE; Vice-President/Secretary Les Jamison, WR3X; George Asaki, W3MPN; Ken McKee, W3RFQ; Chef Eddy Briggs, KB3IKD; and Social Director Betty Johnston, N3PKX,
Join us any Monday Noon for a fabulous lunch at Cactus Willies Steak Buffet and Bakery, 7315 Ritchie Hwy, Glen Burnie, MD. It is directly across from the Empire Towers. Your XYL is invited any Monday, but especially on the first Monday of each month. Ask the cashier for a punch card; every tenth meal is free.
Original Baltimore Chapter #20 Officers.
Treasurer Roland Johnson, W3WA; Secretary Charles Hartman; W3GR: Chairman Maynard Briggs, W3HWZ; and Vice-Chair Bruce Boyd, W3QA. Our Chapter was chartered on June 6, 1963. Call sign W3GR is now assigned to our Historical Electronic Museum Amateur Radio Club station.
Jim Cross WI3N, Les Jamison WR3X Sec/VP Chapter 20, John Johnston W3BE QCWA President and President Chapter 20 At the Timonium Hamfest on March 28th, President Johnston signed up Jim Cross WI3N. Jim is the ARRL Section Manager for MD-Dc area. On Sunday April 2nd, Chapter 20 held their spring banquet at Matthews 1600 in Catonsville, MD. Treasurer Bruce Carpenter received an award from President Johnston for his work in dealing with the banking system to get the Chapter 20 account in order.
John W3BE, Les WR3X, Bruce W3YVV, Ed Briggs KB3IKD (chef and friend of Chapter 20, Betty N3PKX XYL of President Johnston and Joe Schwartz K3JIS (Sunshine committee and friend of Chapter 20) 32 members and XYL's and friend attended the banquet and all had a great time . The grand prize an ICOM 2200M 2 meter rig was won by Richard Bartel W3RCB. Richard was called away early and the prize was accepted by his sister. Les Jamison Sec/VP won the 50-50 prize of $31.00.
Bernie McClenny W3UR
After the ceremonies, Bernie McClenny W3UR gave a presentation on his DXpedition to East Timor. Bernie had some very interesting slide and every one was impressed.
---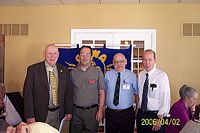 L to R John W3BE, Bernie W3UR, Les WR3X and Bruce W3YVV




---
Chapter 20's June 11 buffet was held at the Historical Electronics Museum with 23 members and friends attending.



Time to eat

Rocky Jones - KC4UXO receives award from
President John Johnston Left to right
Les Jamison - WR3X VP/Sec.,
Rocky Jones - KC4UXO,
John Johnston - W3BE and
Bruce Carpenter - W3YVV
Treasurer.

Presidential table.
L to R Richard Bartel - W3RCB,
John - W3BE,
Betty Johnston - N3PKX, Ken Jones ,
Rocky Jones - KC4UXO

Ken McKee - K3RFQ,
Carol & Joe Schwartz - K3JIS

Debbie Abernethy - KA3VNF,
Tom Abernethy - W3TOM,
Jim Cross - WI3N, Laurel Cross

Jim Jerman - W3SCD,
Charlotte WR3X's XYL,
Joan & Bruce Carpenter - W3YVV

Charlie Seggie - K3JJD,
Don Friedman - W3QYL,
George Asaki - W3MPN, Nobie Asaki
Back to Camera Ed Briggs - KB3IKD